Garden Scale:
Garden Scale plans are the newest addition to our products, and the list of plans will continue to grow until each plan is available in each scale. If you're wondering why we have a separate website from ScaleModelPlans.com, it's because we take a slightly different approach to the plan sets. ScaleModelPlans.com is known for providing several construction alternatives to the model builder. ScaleModelBuildings.com is more specific. One aspect of this site caters to cardstock modellers who specialize in building exclusively with paper products.
We have received numerous requests for Garden Scale plans and have spent a considerable amount of time trying to address the concerns of scale and format. Customers of ScaleModelPlans.com either expect or are used to seeing the included color cardstock patterns with their plan sets, but for obvious reasons, these would not be suitable for G scale construction. Another aspect of ScaleModelPlans.com is that all drawings are exact finished-model size, and everything can be printed on a regular size printer. G scale projects are considerably larger. We maintain the ability to print to a standard printer for the scaled plans, but if the traceable templates are to be used, a ledger size printer is necessary. Although some tiling, or joining of pages is required, ledger size printing is quite common and available in most office supply and print shops. So, rather than adding confusion to the expectations of our customers we have decided to separate G scale as well.
There are many variations of G scale, ranging from 1:20.3 up to 1:32, and popularity varies from region to region. We have decided on the relatively common scale of 1:24, which puts us right in between 1:20.3 and 1:29 and fits with the "10 foot rule", which says that if it looks good 10 feet away, then it works!
Keep visiting for more additions to the G scale line.
Card Stock Buildings From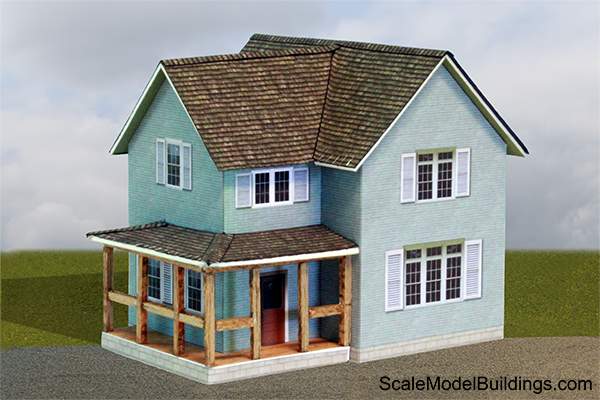 They say that "old habits die hard", and so do old beliefs. I was never really sold on the idea of paper structures, until I actually got around to building one. I regarded paper as an inexpensive and disposable commodity, meant for reading material, and not normally associated with construction materials, unless you consider Japanese fusuma - the paper and wood dividers and doors used in traditional housing.
When we introduced www.ScaleModelPlans.com, we included cardstock patterns as a means of building a mock-up to aid in the construction of the scratch-built structure. We soon became aware that there was a strong following of cardstock and paper construction for dioramas and model railroads. Our interest continued to grow, and so did our commitment to improving and providing card stock structures for model railroads and dioramas.
While www.ScaleModelPlans.com continues to include printable cardstock versions with each of it's plan packages, suitable for mock up or inclusion in a model railroad layout, ScaleModelBuildings.com focuses on downloadable PDF files ready to print on card stock or photo paper so that you can quickly and inexpensively create and assemble your cardstock structure.
If you're not sure about cardstock model making, browse the on-line catalog, find something you like, and give it a try. It doesn't cost much to try, and you may discover a new hobby!.
---
If Scratch Building is more your preference Visit ScaleModelPlans.com...
for our catalog of N Scale 1:160, HO Scale 1:87, OO Scale 1:76, and O Scale 1:48 plans, templates, and Cardstock patterns, then click to order the printable PDF files so you can get started on your next project. Modelling in Z, TT, or S scales? Click here
---
© 2015 T. Carson Contact Webmaster